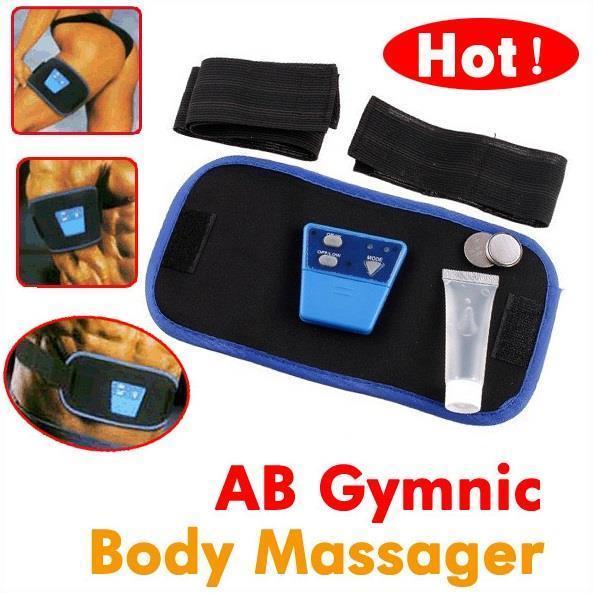 Abgymic uscle Arm leg Waist Massage pulse massager
| | |
| --- | --- |
| Arm leg Waist Massage | |
DESCRIPTION
AbGymnic Electric Ab Belt | As Seen on TV (Gel Included)
AbGymnic is an electric pulsating muscle toning device that will firm, tone, and tighten, your upper abs, lower abs, love handles, and other parts of your body you wish to firm and tone.

You will notice almost immediate improvement without strenuous, time consuming workouts. You control the intensity levels and watch as your ab muscles contract as if you're doing the a sit up. Your muscles are moving, but you are not - therefore there is no sweating.

10 minutes on the AbGymnic is the equivalent of 600 sit ups!

AbGymnic will work you out while watching television, shopping, working, walking, or at any time you want because there are no wires or pads, you can even wear AbGymnic under your clothes and no one will know it's there but you! You will see noticeable improvement after 3-4 weeks of regular treatment. Regular exercise is recommended with the treatment.
PAYMENT INFORMATION

Example: We gladly accept Paypal. We allow up to 7 days for payment. After that time, we have to report all non-paying buyers to eBay so that we are not charged the fees from the sale.

RETURN POLICY

Example: We accept all returns if we are notified within 5 days of the time when you received the item. If the item is defective you must notify us immediately and we will pay to have the item returned to us

SHIPPING INFORMATION

Example: All items are shipped Monday - Friday excluding holidays. We ship within two business days. We offer standard and expedited shipping.

FEEDBACK POLICY

Example: We love feedback and we love leaving feedback! We have our settings to automatically leave you feedback once the item has been paid for.



---