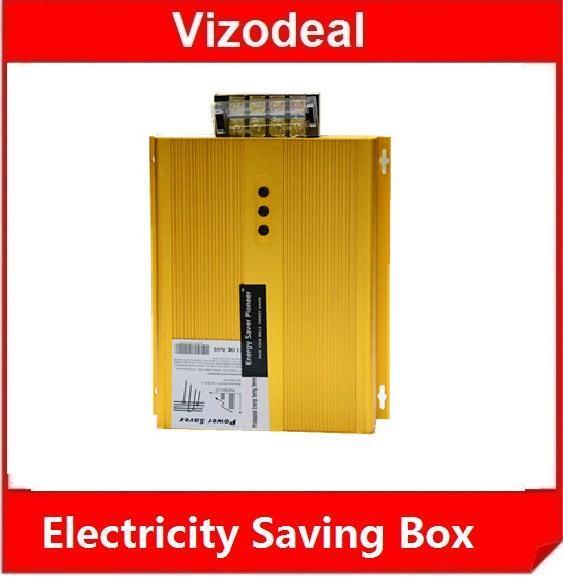 NEW 90KW 3 Phase Electricity Saving Box Energy Saver Power Saver
| | |
| --- | --- |
| 90KW 3 Phase Electricity Saving Box | |
90KW 3 Phase Electricity Saving Box
DESCRIPTION
Product Description:
Adopt the latest and high-efficiency electric power saving technology to succeed in producing this device, which is more effective, stable and safe. Electricity Saving Box help the end user to stabilize the working voltage, thus save the electricity and prolong the lifespan of electrical appliances. It can be widely used for various of common appliances such as air conditioning; washer; refrigerator ; fanner; television ; pump ; fluorescent lamp ; and so on.
It is either suitable for the use of household, company, shop; a mini-sized factory, etc.
Features:
l Regulator is used to stabilize voltage and prevent unstable voltage, which make power output stable to save consumption and prolong the life of the appliance.
l Protruding wave device is introduced into the appliance,which prevent the appliance from protruding wave of current, thus protect the appliance.
l Electricity-Controlled capacitance is used to balance current, which help improve the working efficiency of appliance all the way and avoid invalid electric power consumption.
l It can be continuously used day and night in 24 hours of a day, and day after night in 365 days of a year, without ceasing.
PAYMENT INFORMATION

Example: We gladly accept Paypal. We allow up to 7 days for payment. After that time, we have to report all non-paying buyers to eBay so that we are not charged the fees from the sale.

RETURN POLICY

Example: We accept all returns if we are notified within 5 days of the time when you received the item. If the item is defective you must notify us immediately and we will pay to have the item returned to us

SHIPPING INFORMATION

Example: All items are shipped Monday - Friday excluding holidays. We ship within two business days. We offer standard and expedited shipping.

FEEDBACK POLICY

Example: We love feedback and we love leaving feedback! We have our settings to automatically leave you feedback once the item has been paid for.



---