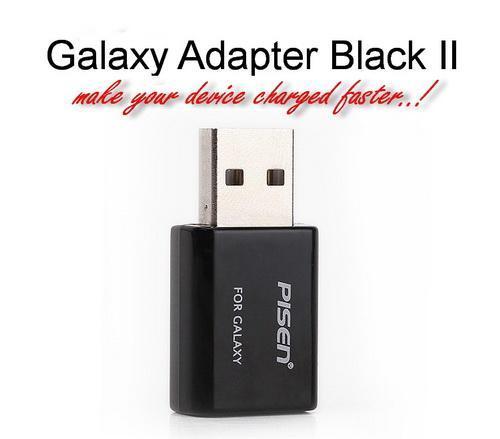 Pisen Apple iPad Samsung Galaxy Tab USB Connector Power Booster
| | |
| --- | --- |
| Pisen Apple iPad Samsung Galaxy Tab USB Connector Power Booster | |
Pisen Apple iPad Samsung Galaxy Tab USB Connector Power Booster
DESCRIPTION
Features:
Are you frustrated most of the charger (wall, powerbank, car) supports only Ipad and when you try to charge your Samsung Galaxy Tab, it will give you an "x" on your battery icon?
Main reason is Ipad and Tab recognized the charger differently and as long it doesn't recognize the charger, it will give a "x"
This product tricks your Galaxy Tab to think it is compatible with Tab and thus allow normal charging Usage is simple.
Just connect this Pisen connector to your Tab cable (Ori or oem) and it will work Note : this is only for charging, not data sync.
The output current from the charger must be at least 1A for this to work
Specifications:
Charge your ALL your Galaxy TAB using PC/NoteBook USB Port.

Only use for charging, not for data transfer.

If you have iPhone charger (with output current rating above 800mAh), you can connect with this adapter to charge your Galaxy Tab.

Fully Charge All Version of Galaxy TABs:
7.0 (P1000, P1010)
7.0 Plus (P6200, P6210)
7.0 Tab 2 (P3100)
7.7 (P6800, P6810)
8.9 (P7300, P7310)
10.1 (P7500, P7510)
10.1 Tab 2 (P5100)
Note 10.1 (N8000)

Fully Charge All Version of Apple iPads.
Package Contents:
1x Pisen USB-to-USB Connector
PAYMENT INFORMATION

Example: We gladly accept Paypal. We allow up to 7 days for payment. After that time, we have to report all non-paying buyers to eBay so that we are not charged the fees from the sale.

RETURN POLICY

Example: We accept all returns if we are notified within 5 days of the time when you received the item. If the item is defective you must notify us immediately and we will pay to have the item returned to us

SHIPPING INFORMATION

Example: All items are shipped Monday - Friday excluding holidays. We ship within two business days. We offer standard and expedited shipping.

FEEDBACK POLICY

Example: We love feedback and we love leaving feedback! We have our settings to automatically leave you feedback once the item has been paid for.



---