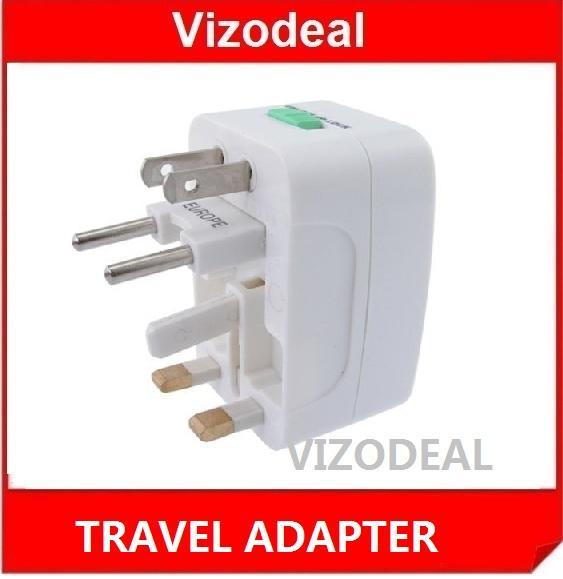 Universal All In One World Travel Adapter Charger Plug Converter
| | |
| --- | --- |
| Universal All In One World Travel Adapter Charger Plug Converter | |
Universal All In One World Travel Adapter Charger Plug Converter
DESCRIPTION
How Does it Work ?
Featuring Open/ Lock Switches, power indicator light, Built-in surge protector and a child protection safety shutter, this Universal Power Adapter is suitable for the use in local and overseas. Perfect for traveling, business trip or studying in the World.This is a Travel Power Adapter that fits the plugs in EU/UK/US/JP/AU/SPAIN and almost every country around the worldSuitable for over 150 countries, Europe, UK, Spain, Australia, Japan style plug availableDon't need to bring extra adapter for different countries. Very Convenience.Provides a power indicator light and Built-in surge protector that keeps your appliances safe from spikes in the flow of foreign electricityUniversal Power Adapter provides a child protection safety shutterCompact sized and light weight Worldwide Power Adapter, easy to carry when you travel around the world Come with the Open/ Lock Switches.
Note: This unit does not convert voltage. Make sure the power outlet has proper voltage work with your device before using this adapter to avoid damage
Contains 4 international plugs, UG-A: For use in Europe, Middle East, Africa, Asia, and the Caribbean. UG-B: For use in S. America, N. America
Built in surge protector - accommodates grounded and ungrounded plugs
This adaptor plug modifies the electrical outlet, it does not change the voltage, supports universal voltage 110V-240V
Works Worldwide: United States, Canada, Europe, Middle East, South America, Asia, The Carribean, Great Britain ,Ireland, Africa, Hong Kong, Singapore, Australia, Fiji, New Zealand, China, Japan, and more than 150 countries.
PAYMENT INFORMATION

Example: We gladly accept Paypal. We allow up to 7 days for payment. After that time, we have to report all non-paying buyers to eBay so that we are not charged the fees from the sale.

RETURN POLICY

Example: We accept all returns if we are notified within 5 days of the time when you received the item. If the item is defective you must notify us immediately and we will pay to have the item returned to us

SHIPPING INFORMATION

Example: All items are shipped Monday - Friday excluding holidays. We ship within two business days. We offer standard and expedited shipping.

FEEDBACK POLICY

Example: We love feedback and we love leaving feedback! We have our settings to automatically leave you feedback once the item has been paid for.



---